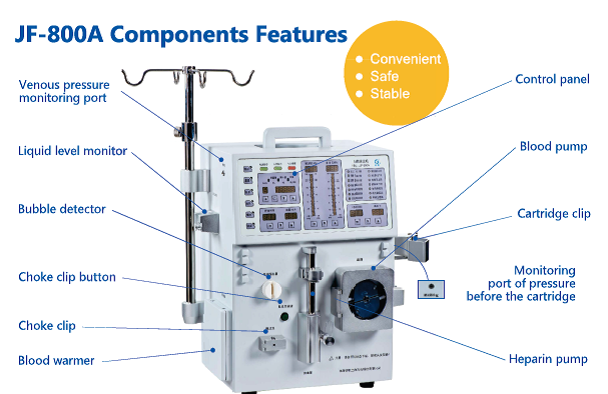 JF-800A Hemoperfusion Machine
For hospitals and clinical set ups (ICU & emergency units) which look for simple hemoperfusion machine for doing extracorporeal blood purification using hemoperfusion cartridges, our JF-800A Hemoperfusion Machine is the right choice.
Characteristics:
Blood pump flow accuracy is ±5%, which is higher than industry standard of ±10%.
Voltage fluctuation range: voltage range AC90~264V could ensure machine to work stably.
Monitoring of interior temperature: it would alarm when interior temperature is higher than 45℃, which could avoid electronic components damage caused by poor thermolysis in high temperature for long time working, so as to prolong machine lifespan.
Portable convenience: the machine is with hand holder which is convenient for its portability.
Overall advantages: mating usage together with hemoperfusion cartridges, brand advantage.